Matthew finally beat the odds . . .
And it wasn't easy!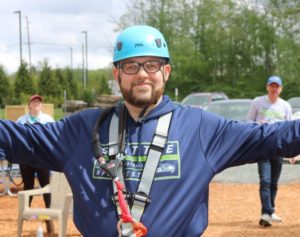 Last month we shared part one of Matthew's story – how molestation, abuse, violence and alcohol at five years old destroyed his childhood. How there were already drugs in his system when he was born. How he was addicted, alone and living on the streets by the time he was sixteen.
Matthew suffered terribly from depression, panic attacks and PTSD. There were times when he was suicidal. Worst of all, he learned there was no one he could trust. So, as he moved into adulthood, he was ill equipped to function in a way that could ever be considered healthy.
"The low point in my life came when I sold my daughter's diapers to buy drugs. "
Living in tents and abandoned cars, Matthew bounced from one relationship to another, and by the time he was 24 he had two daughters. But all Matthew could think about were the drugs and alcohol. He thought there was no one who could help – and certainly he had no one he could ever trust!
Now at 29, Matthew looks back on those days in horror, as he remembers the time he sold his daughter's diapers for drug money.
But against all the odds, and despite all the mountains he's had to climb, today Matthew is a changed man! With nowhere to go, isolated and desperate, Matthew finally began staying at the Mission, where we encouraged him to join the New Life Program. He's never looked back!
Matthew realizes God has big plans for his future. He's beginning to overcome his trust issues and has joined the Climb out of Homelessness team, training to summit Mount Rainier!
He's already applying to college, and he's re-established good relationships with his two daughters. He spends his "free time" volunteering at Coffee Oasis – reaching out to at-risk teens.
But best of all, he's on his way to building a recording career! He's been professionally recording with a local producer who is helping him with connections. Matthew tells us:
"Music is a way of sharing my life with other people in a way that they can relate to that'll maybe help them get through their struggle. The same thing with Mount Rainier, to me it's not climbing the mountain, it's overcoming myself."
It didn't come easy, but today Matthew is full of hope and promise . . . all because partners like you reached out to help!