Food
We serve over 1,000 meals everyday. These meals represent hope, and life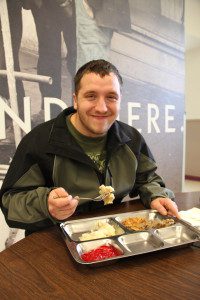 to those coming through our doors.
Emergency Meals
Emergency meals are available at our Downtown Campus daily. These meals are open to men, women and children.
Breakfast: 7:30 am – 8:15 am
Lunch: 12:30 pm – 1:00 pm
Dinner: 5:00 pm – 6:00 pm
Meals are also provided at our Adam's Street Family Shelter but the facility is closed to walk up service.
Additionally we provide
Sack Lunches for clients that work or arrive after dinner
After school snacks via Youth Program homework help
Daily snacks for summer time Youth Program
Lunches for year round youth and recovery program outings