Building Update
---
For all media inquiries please contact Noah Baskett — mikej@trm.org or 253.383.4493
---
It's good news, bad news for Tacoma Rescue Mission's sewer line troubles
Monday, September 29, 2015
By: Matt Driscoll / thenewstribune.com
When is confirming damage to a sewage line a positive outcome?
Only when it's not as bad as you feared it would be.
And this is precisely the situation the Tacoma Rescue Mission finds itself in….
---
Sinking feeling at Tacoma Rescue Mission may run even deeper
Saturday, August 29, 2015
By: Matt Driscoll / thenewstribune.com

It was a picture no one could pass up — a large crane carefully removing the top of the mission's signature lighthouse, a 6,000-pound beacon that had stood atop the 15-year-old building since it opened. In a press release, the mission described the lighthouse as "a symbol of hope for people experiencing dark times."…
---
Tacoma Rescue Mission's lighthouse goes dark
Tuesday, August 25, 2015
By: Brynn Grimley / thenewstribune.com

The lighthouse at the Tacoma Rescue Mission was taken down Tuesday afternoon amid concerns that settling has rendered the structure unsafe. It took a large crane and a handful of workers as a gaggle of lookie-loos and media watched….
---
VIDEO: Tacoma's Rescue Mission Lighthouse Comes Down
Tuesday, August 25, 2015
Video by: David Montesino / thenewstribune.com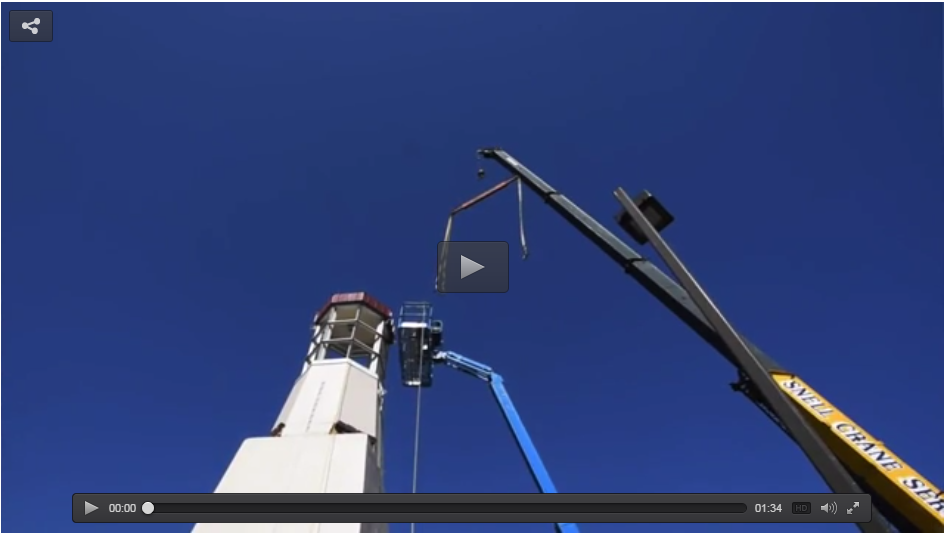 The Rescue Mission in Tacoma had to take down its lighthouse Tuesday afternoon after finding that settling of the building have rendered the structure unsafe. They trucked the symbolic top of their building to another part of their property for safekeeping until they can resolve the issue….
---
Tacoma homeless shelter loses iconic lighthouse
Tuesday, August 25, 2015
By: Elisa Jaffe / komonews.com

TACOMA, Wash. — The Tacoma Rescue Mission has reluctantly removed its lighthouse, which has long served as a symbol of hope to the down-and-out stumbling in darkness. "It's sort of a punch in the gut," said Excecutive Director Mike Johnson, "because the reason we're here and have been her for 103 years is to give hope to folks. So to have to take down a symbol of that hope, it hits at a really visceral emotional level."…
---
Tacoma Rescue Mission to take down iconic lighthouse
Wednesday, July 29, 2015
By: John Langeler / king5.com

TACOMA, Wash. — Towering above the Tacoma Rescue Mission homeless shelter, the white lighthouse is designed to be a beacon of hope.
Instead, it is now a reminder of the problems the 15-year-old structure is in. In two weeks, the lighthouse is coming down….